The Australian High Commission is pleased to annouce that the closing date for applications for the 2024 intake of Australia Awards Scholarships is extended to 30 April 2023.
Australia Awards scholarships in Vanuatu
Australia's international development assistance in Vanuatu helps promote prosperity, reduce poverty and enhance political stability.
Australia Awards scholarships are prestigious international awards offered by the Australian Government to the next generation of global leaders for development. Through study and research, recipients develop the skills and knowledge to drive change and help build enduring people-to-people links between Vanuatu, Australia and the region.
Applicants are assessed on their professional, personal and leadership qualities, academic competence and their potential to impact on development challenges in Vanuatu.
Applications are strongly encouraged from women, people with disability and other marginalised groups.
Priority fields of study
Applications are invited in areas of study that align with the Vanuatu National Sustainable Development Plan and the skills gaps identified in Vanuatu's National Human Resource Development Plan (NHRDP). Particular priority areas for applications include the below:
Bachelor and Postgraduate
health
climate change
education including the teaching of STEM - Science, technology, engineering, and mathematics
veterinary and animal sciences
Technical and Vocational Education (TVET)
training and assessment
construction
health
mechanics
information technology
hospitality management
Level of study
Australia Awards scholarships provide citizens of Vanuatu with the opportunity to obtain a qualification at an Australian tertiary institution.
Awards will be offered for commencement in 2024:
Bachelor degrees,
Masters degrees, and
Certificate IV, Diploma and above
Where can you study?
Australia Awards Scholarships support Vanuatu citizens to obtain tertiary qualifications at Australian tertiary institutions.
Australia Awards Pacific Scholarships are for study at the University of the South Pacific or Fiji National University.
Application dates
For study commencing in Australia in 2024:
Opening date: 1 February 2023
Closing date: 30 April 2023 (11:59 PM AEST)
Applications and/or supporting documents received after the closing date will not be considered.
Information sessions
This is available for the public to attend.
Port Vila sessions will be held at The Chantilly's conference room at the following times:

6th Feb, 9:00am – 11:00am
8th Feb, 5:00pm -7:00pm
13th Feb, 9:00am – 11:00am
15th Feb, 5:00pm -7:00pm

Santo sessions will be held at The Espiritu Fare in Luganville at 9 am on the 21st, 22nd 23rd of February 2023.
Tanna sessions will be held at the Tafea provincial council conference room at Isangel at 9 am on the 28th of February, 1st and 2nd of March 2023.
The application process­
Online applications
All applications must be lodged online through OASIS link at www.australiaawardsvanuatu.org
If you do not have internet access, contact Australia Awards Vanuatu to discuss an alternative submission format.
Supporting documents
Applicants must submit all relevant supporting documents listed in the Australia Awards Scholarships Policy Handbook.and OASIS.
These will include (i) proof of citizenship, (ii) academic transcripts (iii) Curriculum Vitae; and (iv) referee reports. All documents must be translated to English. Failure to do so could render your application ineligible.
Note: Only shortlisted applicants must have their documents certified.
For more information about how to apply, please call Australia Awards Vanuatu on +678 22114 or visit www.australiaawardsvanuatu.org.
Alumni / Alumnus of the Year
The Australian High Commission in Vanuatu recognises and honours Australia Awards Scholarships and Australia Awards Pacific Scholarships alumni who have made an outstanding contribution to their profession, community and country through exemplary leadership, integrity and innovation.
The Australia Awards Vanuatu Alumnus of the Year Prize is the most distinguished honour given to alumni who have demonstrated achievements at a local, national or international level.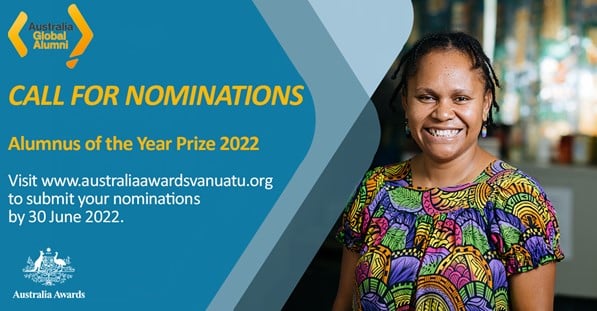 Who can apply?
The Alumni Awards are open to Vanuatu citizens who have graduated from a tertiary institution with the Government of Australia's long term scholarship program. This includes Australia Awards Scholarships, Australia Awards Pacific Scholarships and predecessor programs including Australian Development Scholarships and Colombo Plan.
How to apply?
Submit your nominations here by 30 June 2022. The Australian High Commission in Vanuatu and Australia Awards Vanuatu are committed to gender equality and social inclusion and supports applications for the Alumnus of the Year Prize from women, persons with disabilities and other individuals contributing to the diversity of Vanuatu society.
If you are an alumnus, you are encouraged to nominate yourself for the Alumnus of the Year Prize or you can nominate an alumnus who you think is deserving of the Prize. With your nomination, you can help recognise alumni who have attained distinguished career success and performed outstanding service to their community and Vanuatu.
For more information about how to apply, please visit www.australiaawardsvanuatu.org.